Smile Gallery
Before and After Photos
These photos are meant to be educational in nature and are not a guarantee of treatment results.
Each case is different and expectations are discussed with every patient prior to commencing treatment.
Treatments shown were completed by Dr. Jennifer Graas.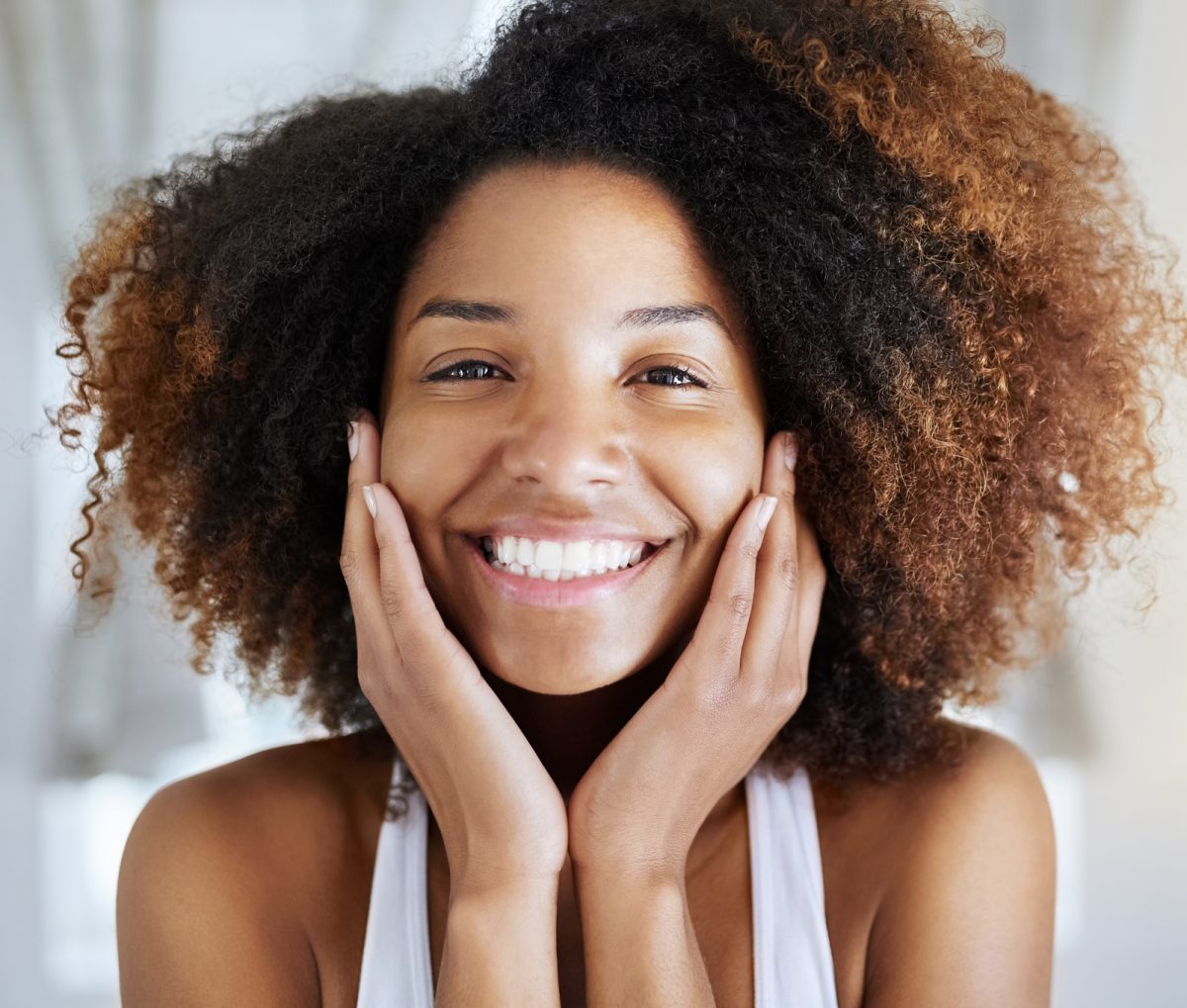 Case 1
This patient had a dark central incisor that was covered using a conservative bonding technique as a more economical alternative to a porcelain veneer.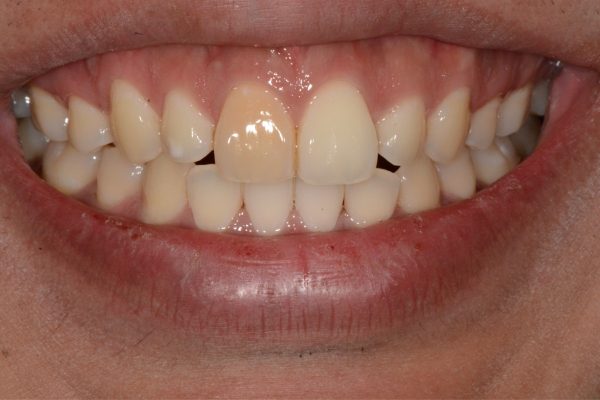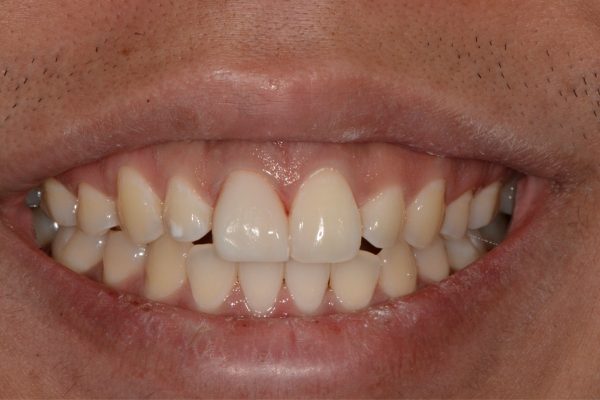 Porcelain crowns and composite veneers were used to improve the color and alignment of this patient's smile.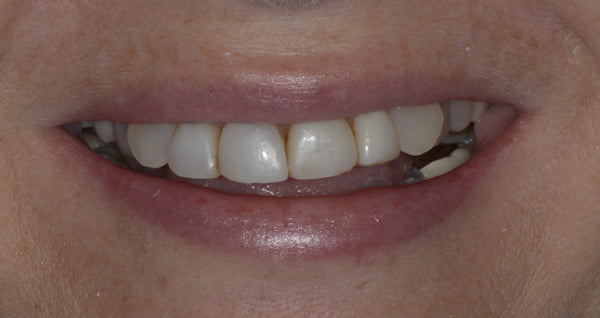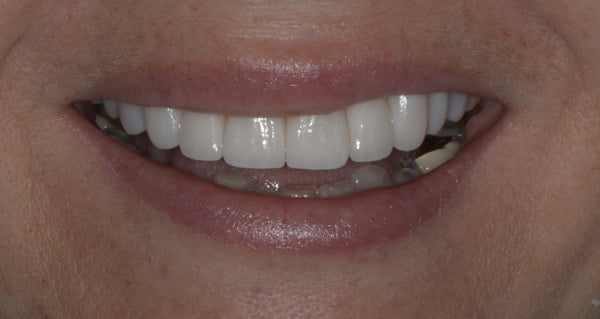 Case 3
Acid wear led to enamel loss and dentin exposure on this patient's front teeth. Crowns were done to protect from further enamel loss and to restore esthetics.
There are many factors that can contribute to acid erosion of our teeth including diet, certain mouthrinses, swimming pools, and habits such as brushing teeth after drinking an acidic beverage.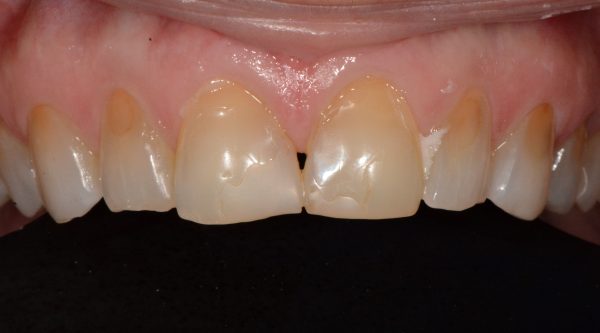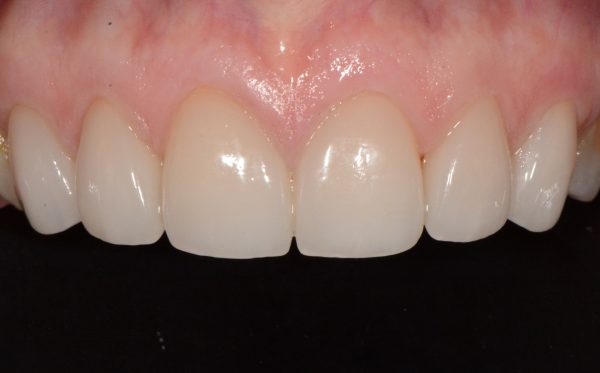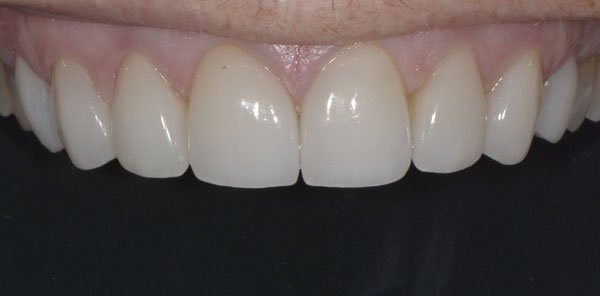 Case 4
New crowns were done on these two central incisors to correct open margins and to improve shade match to the other natural teeth.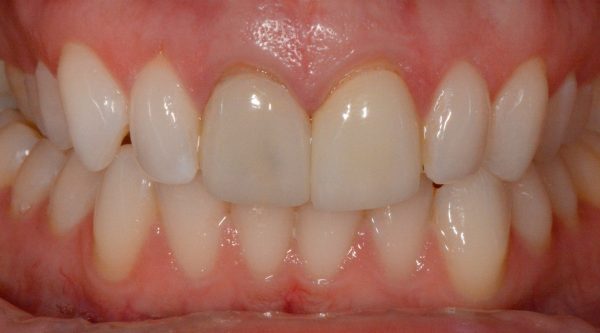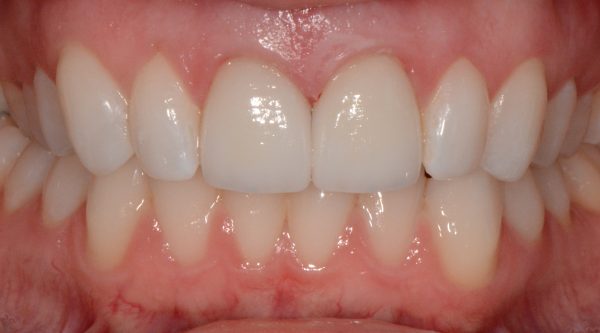 Case 5
Crowns were required to restore these severely worn upper front teeth.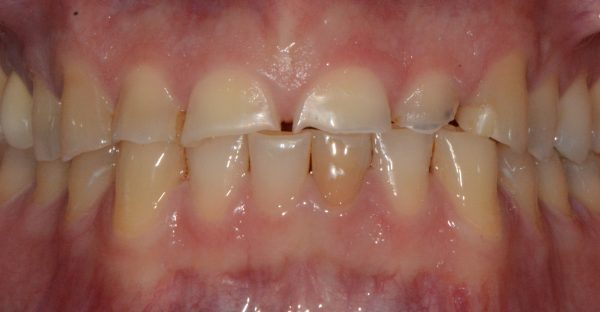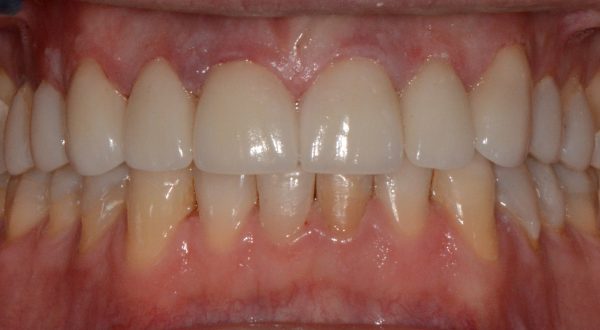 Case 6
This patient had a poorly fitting crown on his front tooth. We fabricated a new crown for a much better shade match and shape to blend in with his smile.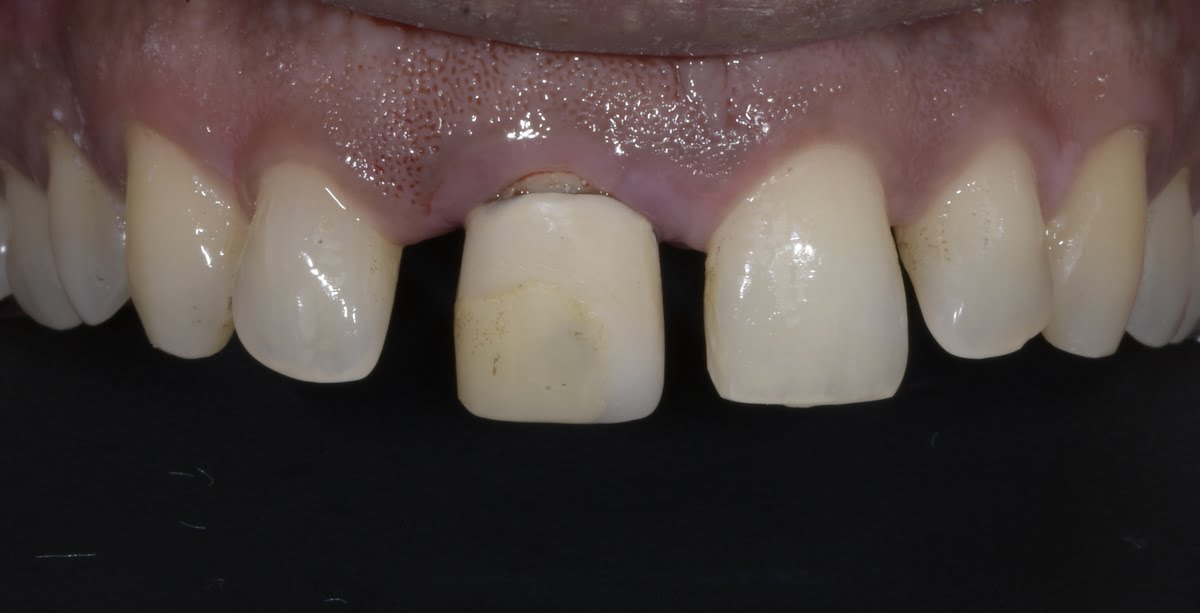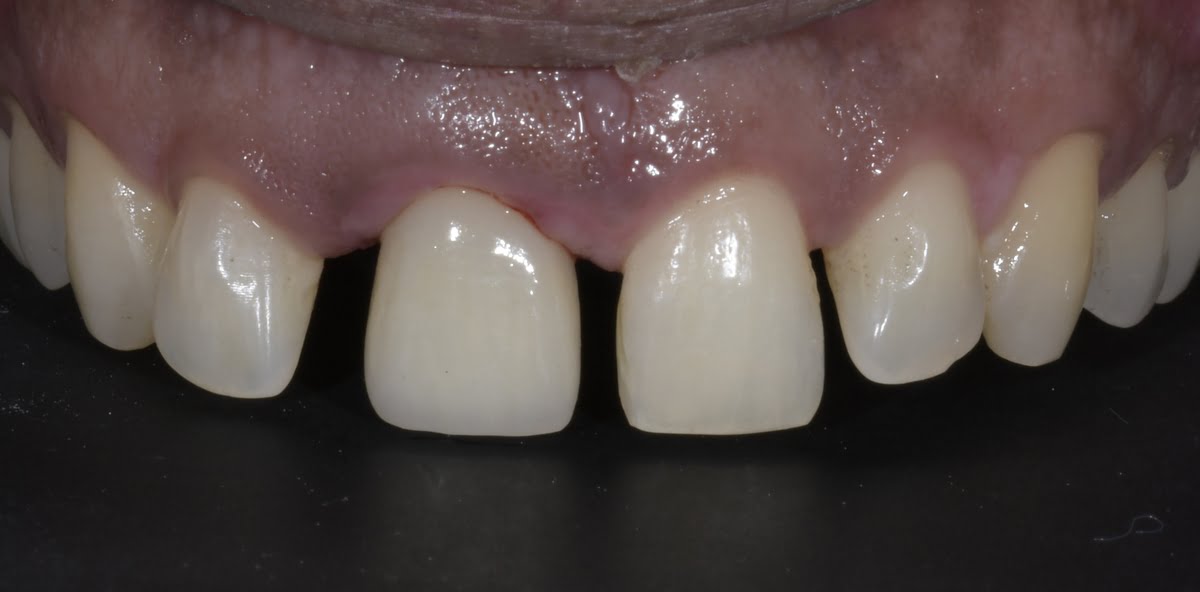 Case 7
Case with 4 porcelain veneers done to improve the shape of the front teeth.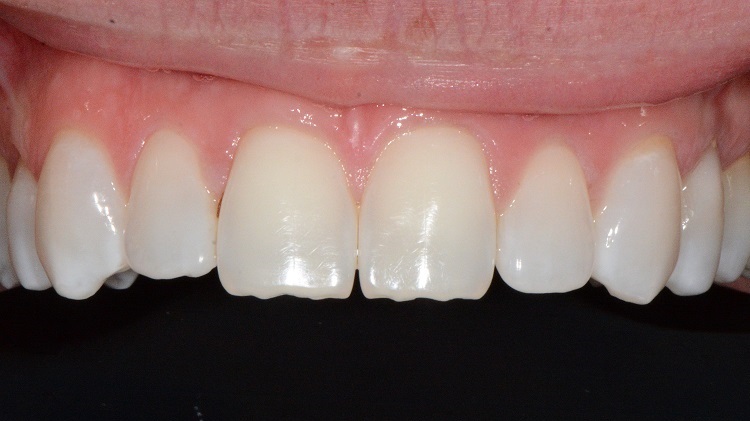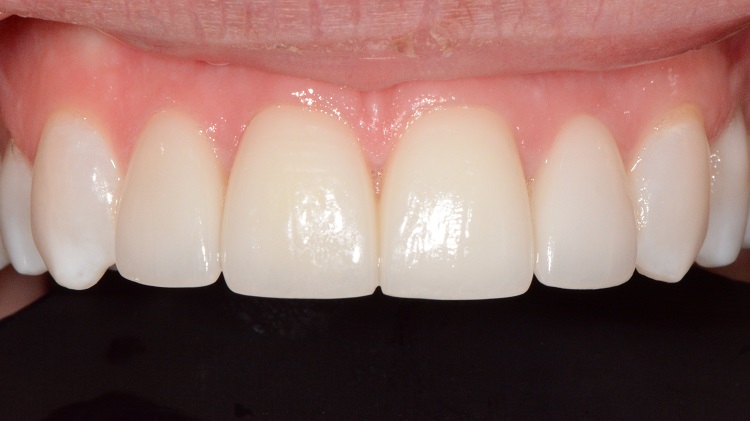 Case 8
Internal bleaching to improve appearance of single dark tooth without the need for crown or veneer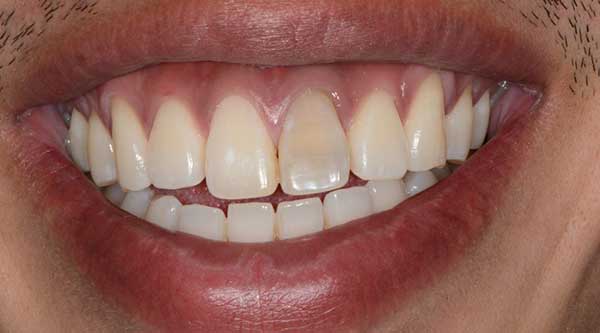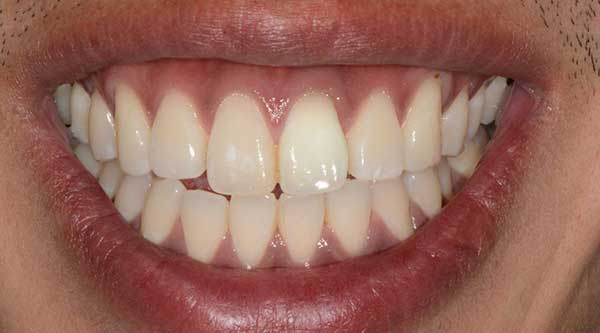 Case 9
This patient had a previous root canal and an old porcelain fused to metal crown on his front tooth. The root canal was failing and the tooth had to be extracted and replaced with an implant. We then made a new ceramic crowns for both central incisors and did conservative composite bonding on the laterals to improve the esthetics. This was a very challenging case!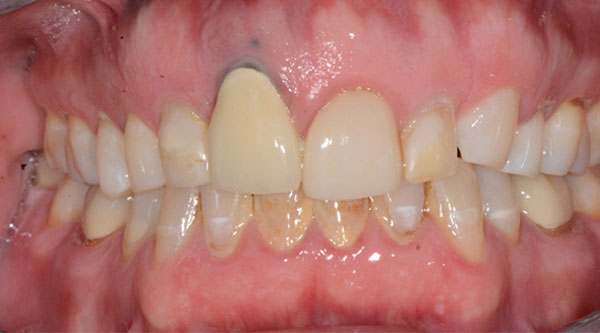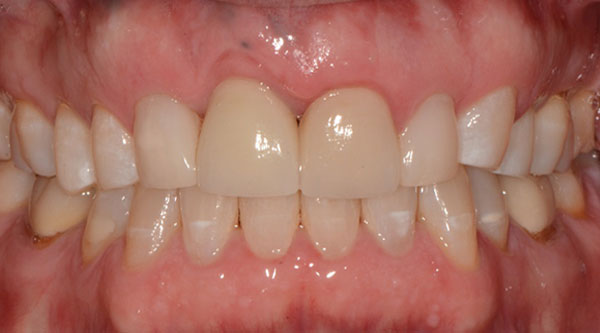 Case 10
Composite bonding: this patient had his old composite restorations replaced to improve shade and appearance.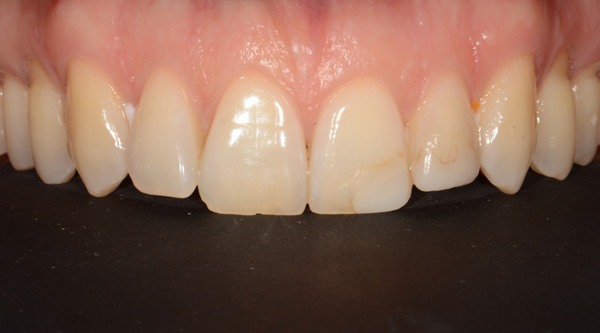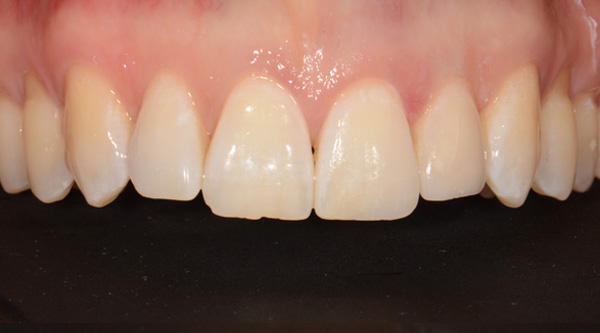 Case 11
Porcelain Veneers to brighten this patient's smile.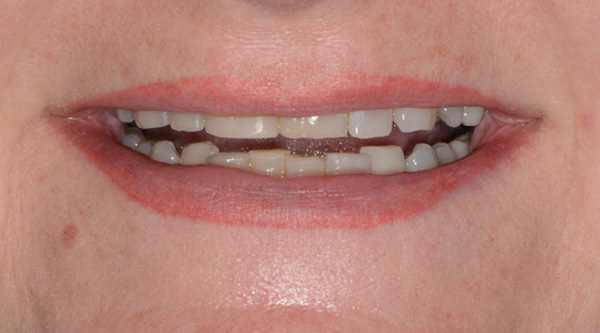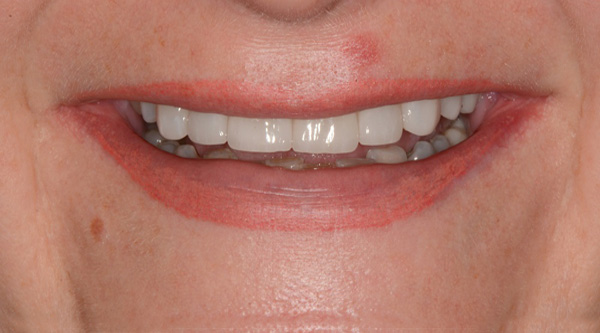 Case 12
Porcelain Veneers to brighten this patient's smile.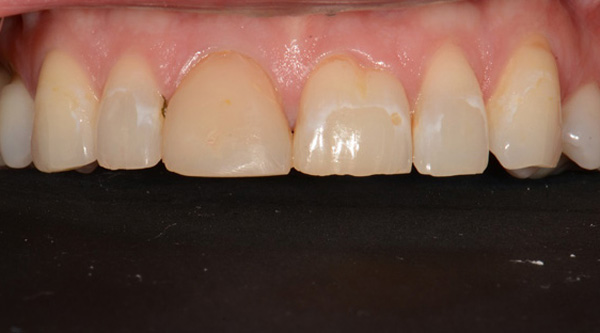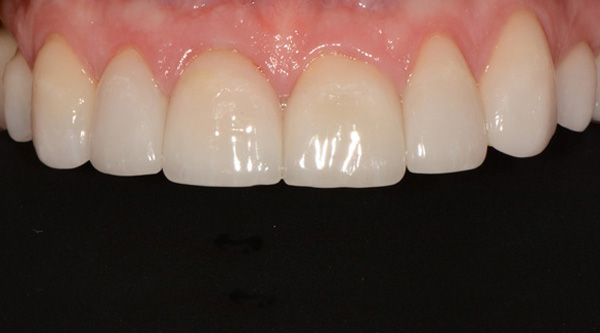 Case 13
This patient had worn central incisors previously restored with large composite fillings that kept chipping. She had orthodontics to correct her bite, we then restored her 2 central incisors with crowns, and added composite to her worn canines. This was a very conservative treatment in which we did not increase the patients risk or remove unnecessary tooth structure.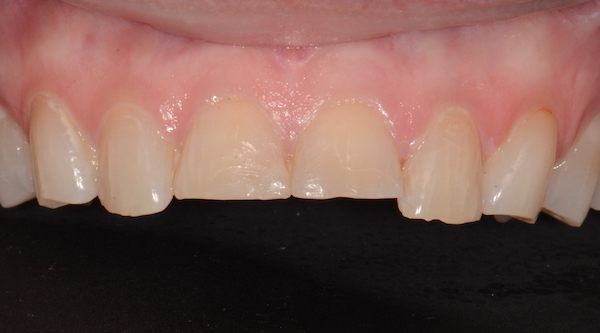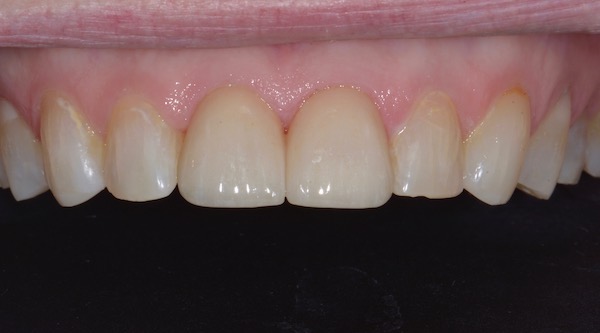 Case 14
Veneers were done to enhance the shape and color of this patients front teeth. We also replaced the old crowns on her molars for improved aesthetics and blending. Notice how her smile is "wider" after this treatment was done!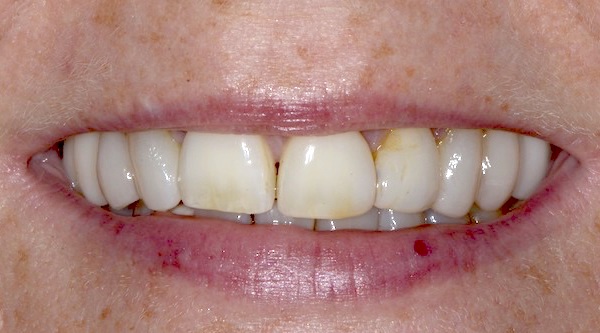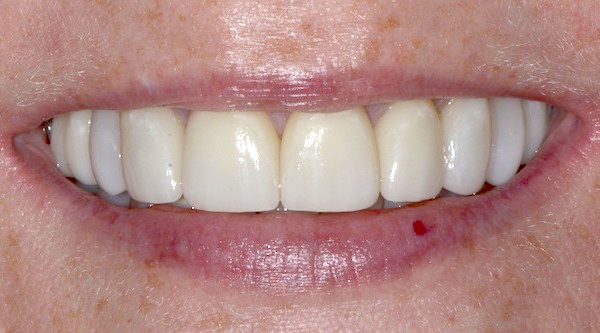 Case 15
This patient had an accident fracturing 4 of her front teeth. These are temporaries Dr. Graas made for her while she takes some time to decide on her final treatment options. Temporaries are a great way to test out the desired shade and shape of your final restorations.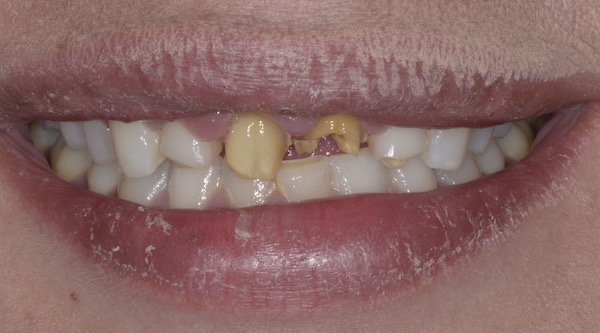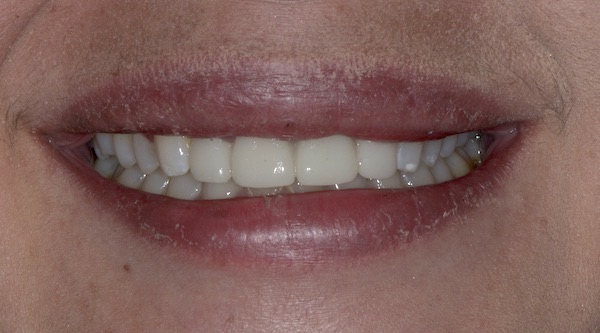 Case 16
This patient had cosmetic bonding done to close spaces between her front teeth. No enamel was removed for this procedure.
Before: Pre-treatment photo, old bonding between central incisors visible.
During: Bonding removed prior to treatment
After: Immediate post-treatment photo. Gum tissue between centrals will fill in over the next few months – final post-treatment photo to follow!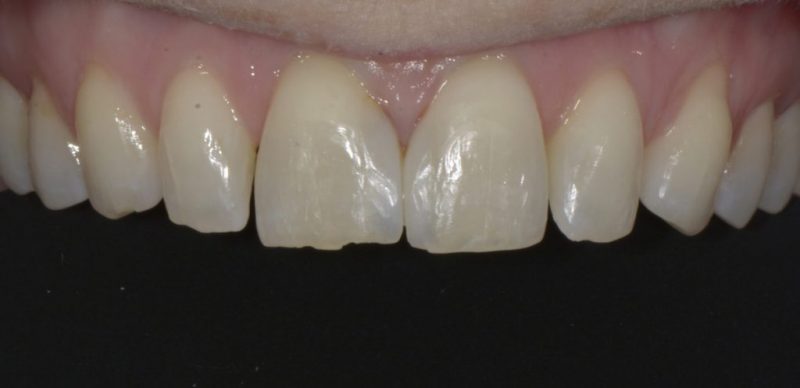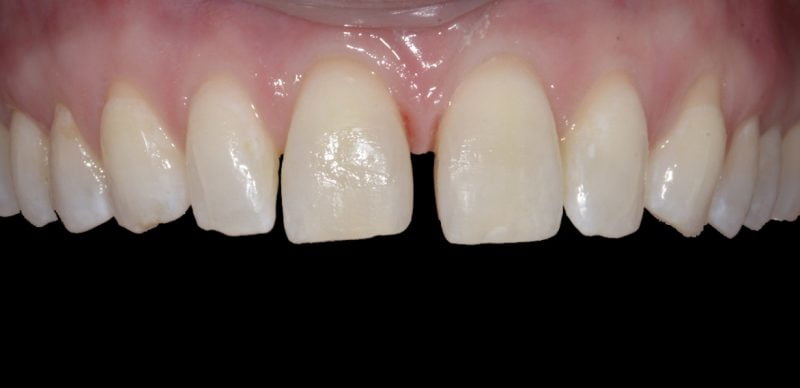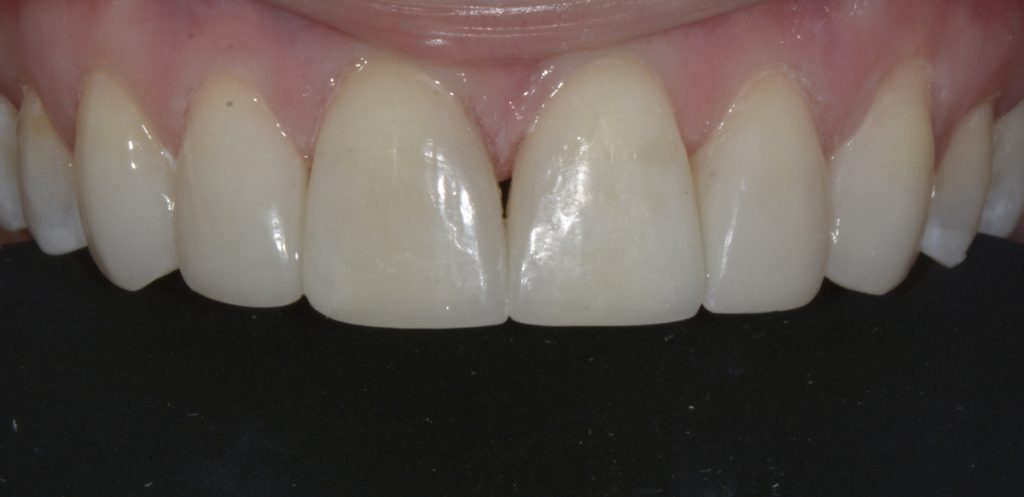 Case 17
This patient had new crowns made for her 2 front teeth to replace old discoloured composite restorations. This shows how it is possible to achieve a beautiful shade match with porcelain restorations.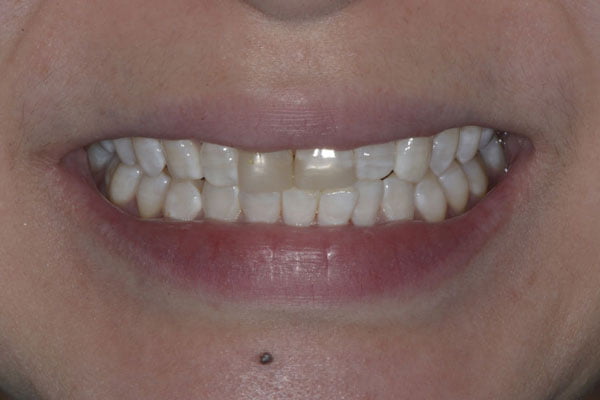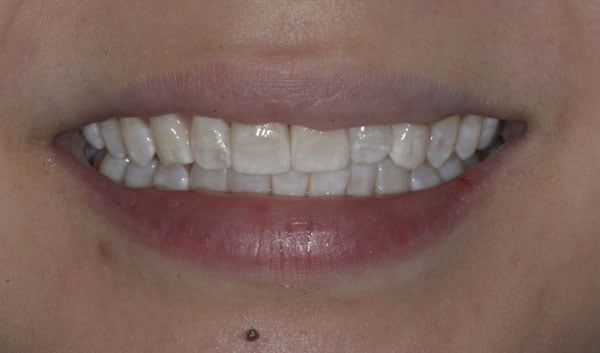 Case 18
This patient's composite bonding had stained over time. We replaced it with new bonding on her front 4 teeth. No enamel was removed for this procedure.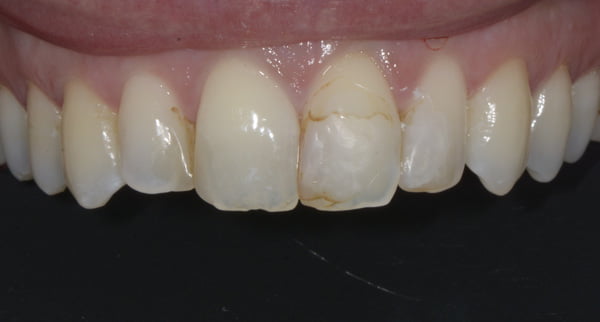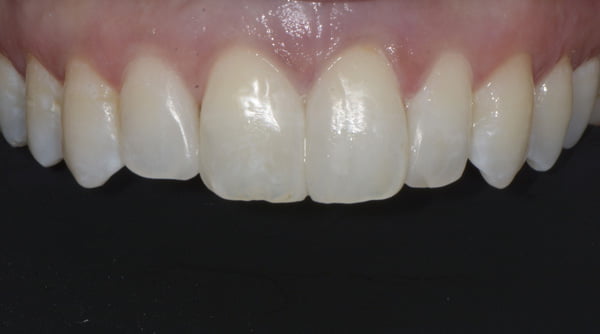 Case 19
This patient had 4 veneers and a gum lift to improve the symmetry of her smile.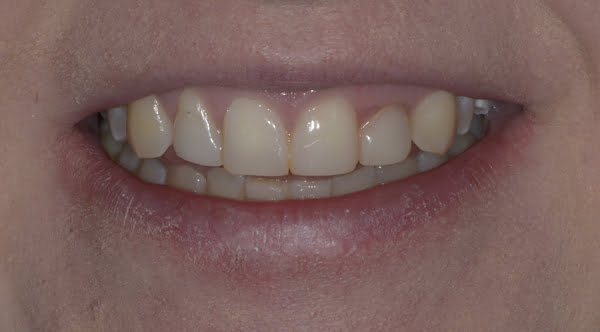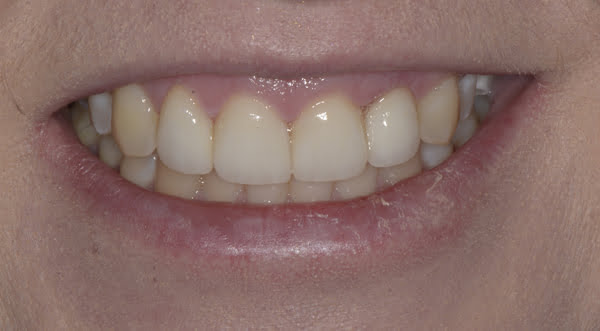 Case 20
Eight composite veneers were done for this patient to enhance her smile and camouflage the darker color of her front tooth. Composite veneers are a more economical option vs. porcelain veneers, and minimal tooth reduction was required for this result. Not everyone is a candidate for this treatment.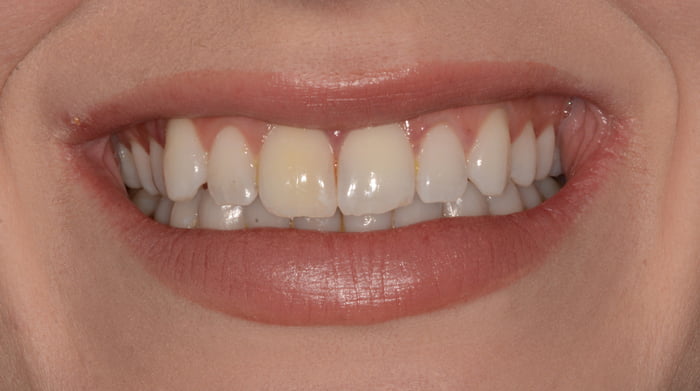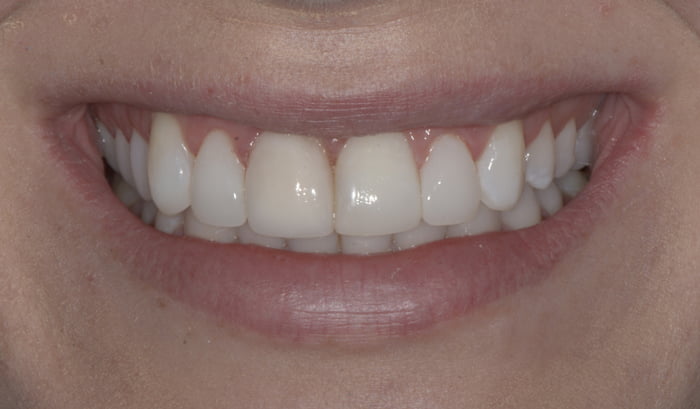 Case 21
Six composite veneers were done for this patient to improve tooth alignment and shape. No enamel was removed for this procedure.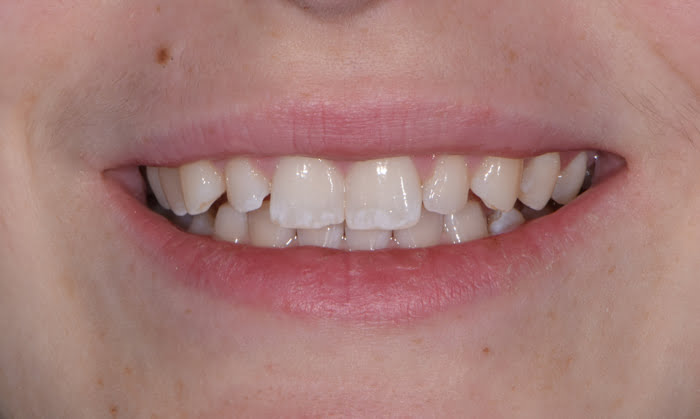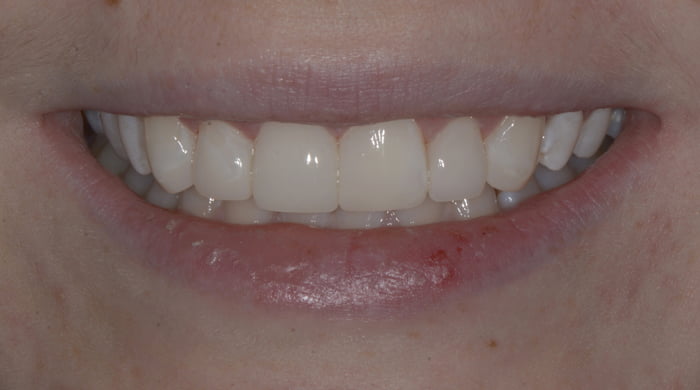 Case 22
Six minimal preparation porcelain veneers and four no preparation composite veneers were done for this patient.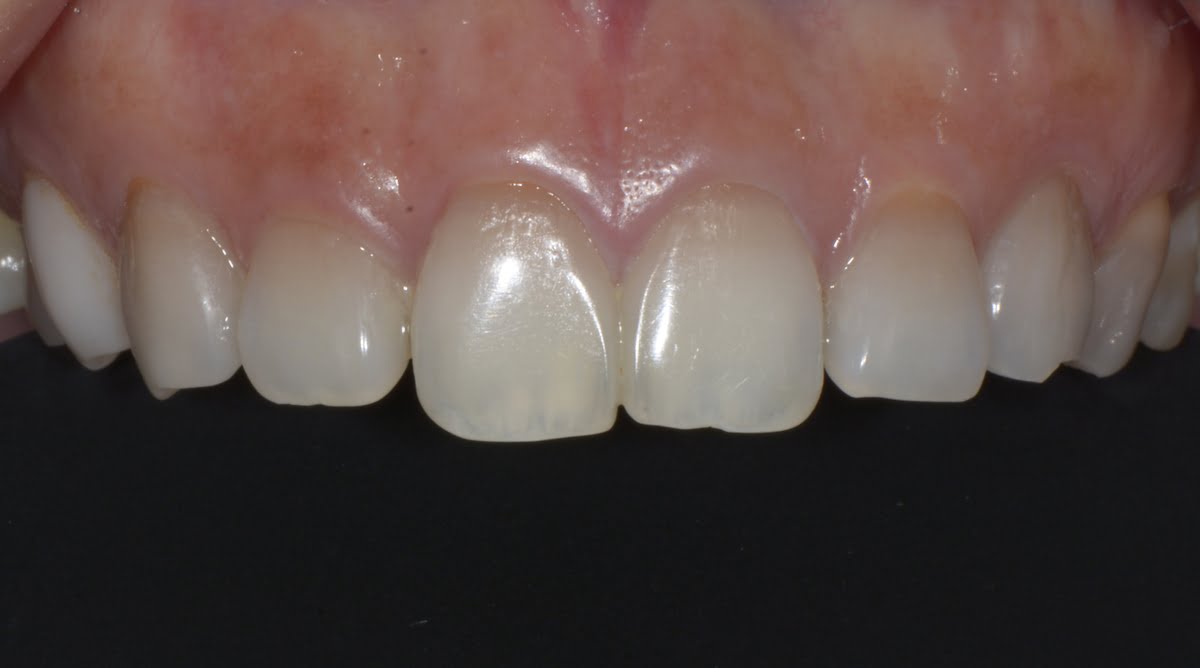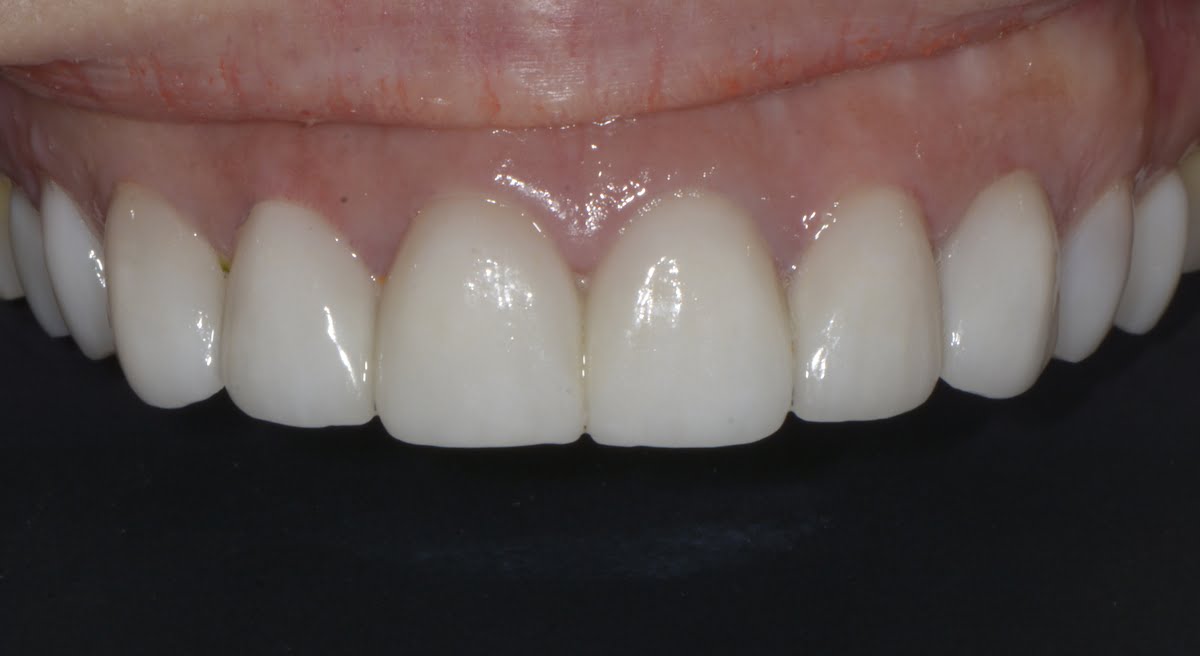 Case 23
This patient had custom home whitening, four porcelain veneers and two no prep composite veneers to improve the shape, color and symmetry of her teeth.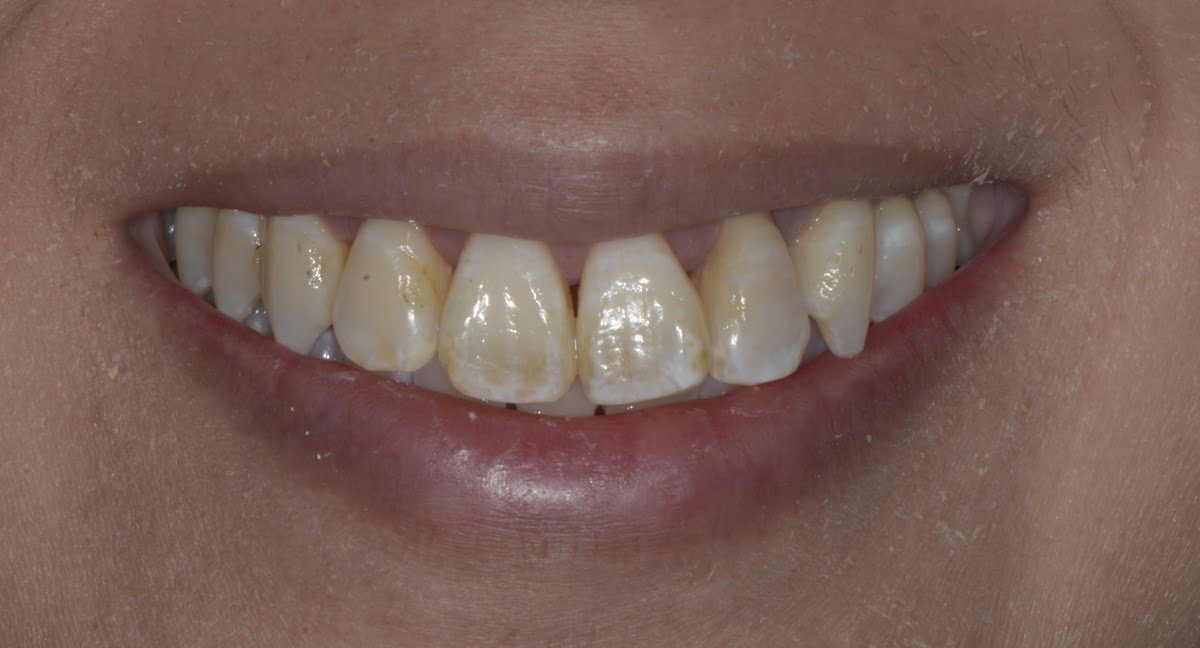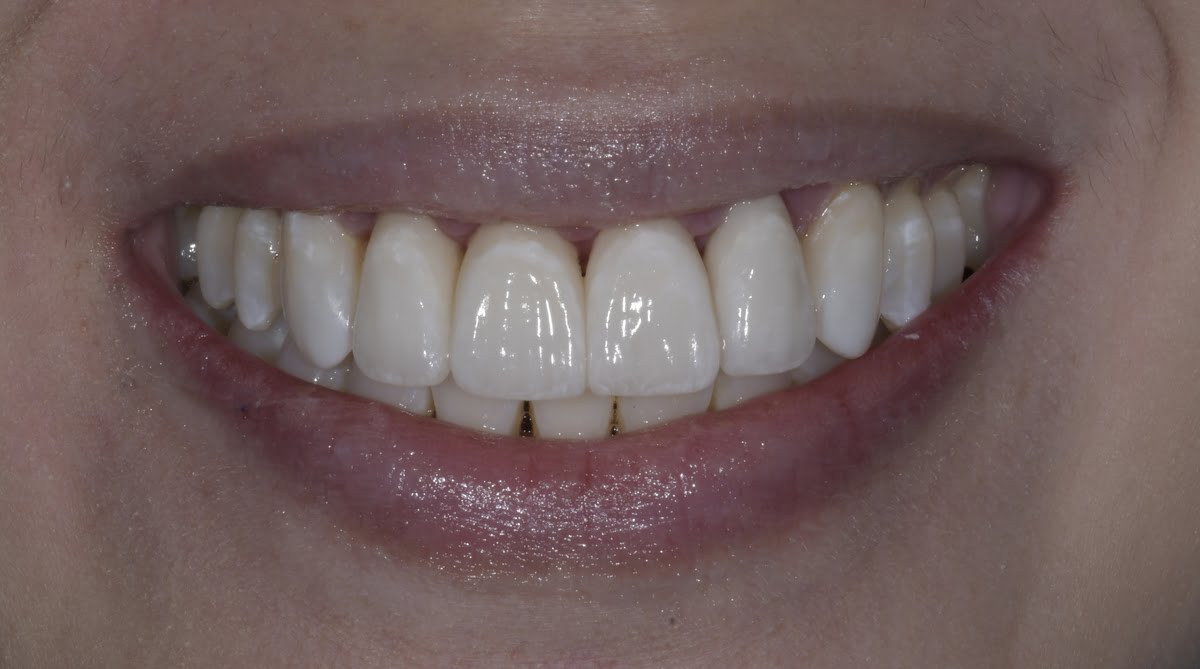 TESTIMONIAL
"Such a joy to deal with this team of top-notch, caring professionals! Truly the best-of-the best in my experience. Keep up the good work." 
Stay in the loop
Subscribe now to Eau Claire Park Dental news and receive interesting articles about your dental health!