Having missing or damaged teeth can negatively impact your quality of life. Fortunately, there are two main tooth replacement options that can help you eat, speak and smile comfortably again: dental implants and partial dentures.
In this post, we'll talk about the pros and cons of implants and partial dentures, and how to determine if you're a good candidate. You can also set up a consultation with Dr Graas or Dr. Down to review your individual needs and treatment options.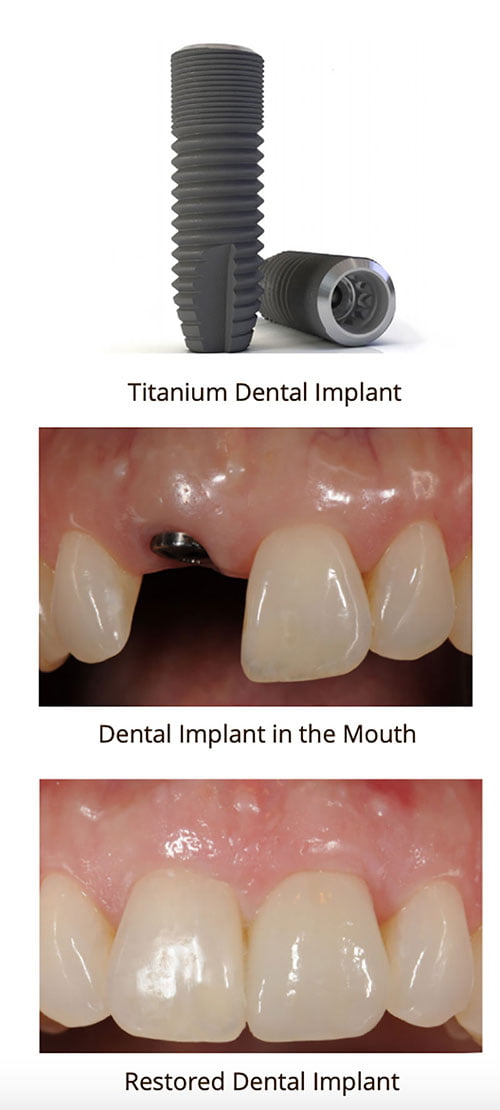 Dental Implants vs Partial Dentures
What is a dental implant?
Dental Implants are special titanium posts which are surgically placed into the jawbone to replace missing teeth or to support a denture. The implant functions as the root of a tooth and, depending on the number of implants placed, it can be used to replace everything from a single tooth to a full arch of teeth. It takes an average of 3-6 months for the jawbone to integrate with the implant before it can be used to support a dental restoration such as a crown, bridge or a denture.
Dental implant treatment is a multi-phase process. The first step of extraction and implant placement is generally an outpatient surgical procedure done by a specialist (periodontist). Typically people do very well with minimal downtime after implant placement. At ECPD, we always ensure our patients are referred to the best specialists in Calgary for their dental implant surgery. We then place the crown on the implant in our office after a 3-6 month period of healing.
What can you expect after implant treatment?
You should be careful not to disturb the surgical site immediately after dental implant placement. This means no chewing on the side of the implant and careful cleaning methods for several weeks to a month. The dental implant takes several months to totally fuse to the jaw, so fewer disturbances to the area means a higher success rate.
Before any procedure, it's good to know the benefits and risks. Here are the main advantages and disadvantages of dental implants:
Pros of dental implants
There are many benefits to having a dental implant placed.
They are fixed and secure in your mouth (not removable), so no need to worry about having loose or poor fitting dentures
Stable and long-lasting, with over 97% success rate in healthy patients
Closest option we have to the look and feel of natural teeth
Can be used for a single tooth or several teeth
Missing or damaged teeth can be replaced without cutting down adjacent healthy teeth
Can help preserve and maintain healthy jawbone in the area of missing tooth/teeth
With proper homecare and maintenance, dental implants can restore your smile and chewing ability for a lifetime.
Cons of dental implants
The implant process can take several months from start to finish and patients will need a temporary crown or denture during the initial healing phase (3-6 months). If you have a temporary denture to replace your missing tooth/teeth, it is important that the denture does not rub on the surgical site.
There is always a small chance that the dental implant will fail to integrate with the jawbone and have to be removed. Certain medical conditions can put you at a higher risk for implant failure.
As with any surgery, there is a potential risk of surgical complications when placing a dental implant.
Improperly positioned dental implants can make it difficult–if not impossible–to place a useful dental restoration in the mouth. This is why it is so important to have a thorough treatment plan and someone with experience placing your implant.
Implant supported restorations do not have the same feeling as a normal tooth and it is possible to put too much pressure on them when chewing, leading to damage of the implant restoration or opposing tooth.
If you have a misaligned bite, the restorations placed on the dental implants will be at greater risk for fracture or failure. Proper alignment of the teeth prior to dental implant placement leads to a more esthetic result. Bite and tooth alignment problems should be addressed prior to dental implant placement.
Cost: implant and restoration can range from $4000-5000/tooth
Who is a good candidate for dental implants
Dental implants might be an option for you if you:
Have one or more missing teeth
Don't have health conditions that affect healing (diabetes, smoking, gum disease)
Have enough bone to secure implants
Don't want dentures
Considering a dental implant? Set up a consultation at ECPD for a personal assessment.
What is a partial denture?
A removable partial denture (RPD) restores function and appearance to a broken down mouth. It is usually the most cost effective way of replacing teeth, especially in a mouth where many teeth are missing. An RPD can also provide important support to facial structures such as the lips; helping to maintain a more youthful appearance. They are made from a combination of acrylic and metal. To keep the tissue under the appliance healthy, your RPD should be left out of your mouth during sleep.
Decide if partial dentures are right for you by reviewing these advantages and disadvantages:
Pros of partial dentures
Helps maintain position of remaining teeth
Less invasive than dental implant surgery
Less expensive option than dental implants to replace missing teeth
Can be designed so more teeth can be added over time if we anticipate future tooth loss
Cons of partial dentures
Partial dentures, even under the best of circumstances, DO NOT have the same chewing efficiency as natural teeth. The ability to chew food depends on the stability and retention of the denture. Stability and retention are affected by many factors, including the attachment of the denture to natural teeth as well as the amount and type of bone, gums and saliva present in your mouth.
Some people experience sore spots, looseness or lack of "fit" and will need relines over time to improve fit
Esthetics of an RPD can be challenging as metal clasps can be visible when smiling
Takes more practice to eat and talk initially
The teeth in the RPD are not as strong as your natural teeth and you will not be able to chew as heavily on them.
Can affect taste and sensory experience with food as an RPD usually covers your gums and palate.
The appliance will tend to get food trapped underneath it and you may have to remove and clean it after eating.
Who is a good candidate for partial dentures
Partial dentures are an option for you if:
You're missing more than one tooth (but not a full upper or lower set)
You don't have allergies to acrylic or metal
Are ok with having a removable option for tooth replacement
Which is better: dental implants vs partial dentures?
The right tooth replacement option depends on your unique situation, but generally dental implants are longer-lasting, tend to fit better, and look more similar to natural teeth.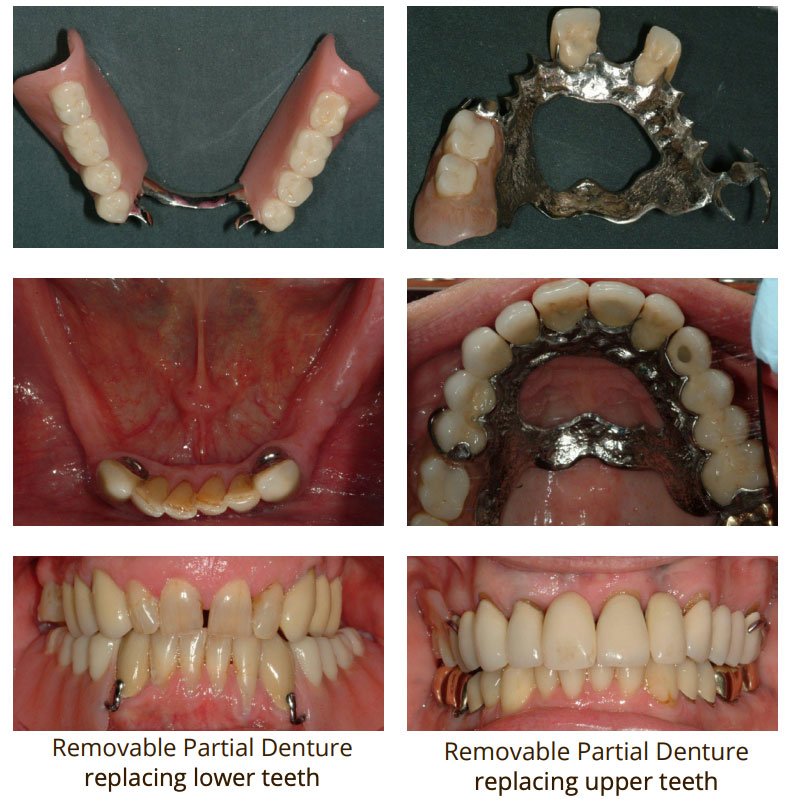 Schedule an appointment with Dr. Graas or Dr. Down to see what's right for you. Together we'll create an individualized treatment plan that meets your goals for looks and function.
References
https://www.dentalservice.net/dentures/partial-dentures/
https://www.healthline.com/health/dental-and-oral-health/partial-denture
https://www.mayoclinic.org/tests-procedures/dental-implant-surgery/about/pac-20384622
https://www.medicinenet.com/dental_implants/article.htm