Do you play sports? Clench your teeth while working out? A mouthguard can help prevent damage to your teeth and jaw during these activities.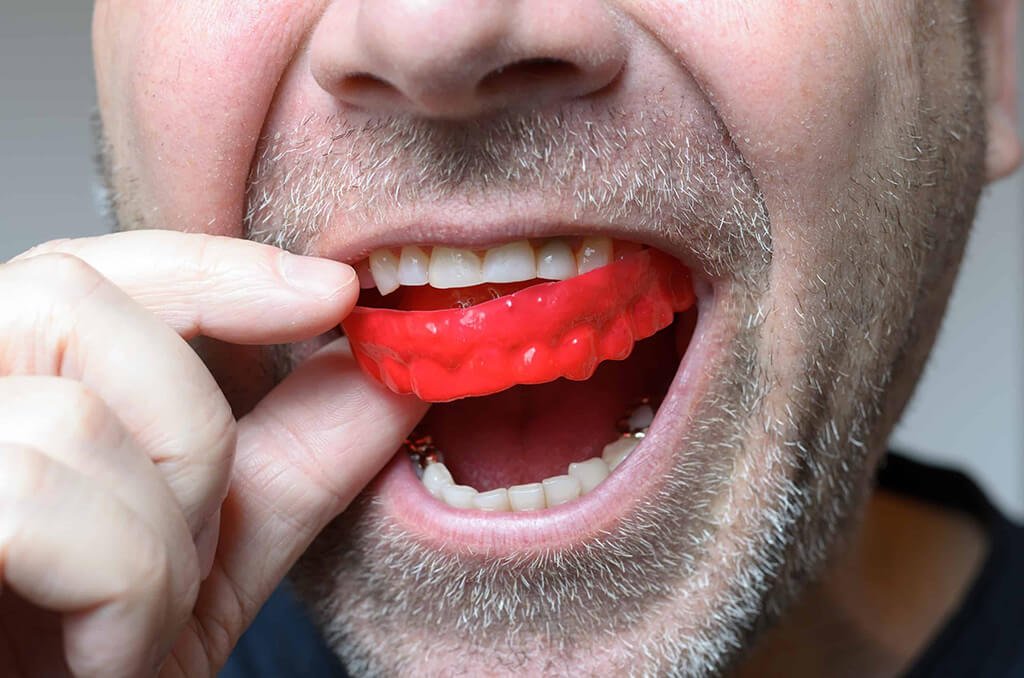 What is a mouthguard?
A mouthguard is a protective appliance that covers your teeth and gums to protect against tooth and jaw damage, injuries and concussions.  
Who benefits from a mouthguard?
Both children and adults can benefit from wearing a mouthguard.
You or your child might need a mouthguard if:
You play contact sports like football, basketball, boxing, hockey and lacrosse.

You enjoy activities with a higher risk of falling, such as mountain biking or ice skating.

You have orthodontics, veneers or other dental restorations that need protection.
How does a mouthguard protect your teeth? 
A mouthguard acts as a cushion or barrier to your teeth and jaw by absorbing some of the impact when you experience an injury. Your teeth, gums and jaw feel less pressure because they're surrounded by a strong layer of protection. 
According to the American Dental Association, athletes who don't wear mouth guards are 60% more likely to suffer tooth damage with a sports injury. Your mouthguard should be worn every time you play contact sports.
Key benefits of mouthguards
Athletes
Prevents traumatic dental injuries such as chipped/broken teeth

Prevents teeth from falling out or being displaced on impact

Reduces mouth injuries, such as fractured jaws

Reduces the risk of concussions

Offers comfort when contact occurs

Protects your tongue and lips from laceration
Those with orthodontics, dental crowns or veneers
Protects your teeth, crowns, and veneers, increasing oral health and longevity (protecting your investment!)

Protects braces/orthodontic appliances from breaking and/or getting caught on or cutting your lips/cheeks
It usually takes a couple weeks to get used to wearing your mouthguard, but after that most patients feel very comfortable wearing it.
Talk with us at your next appointment to see if a mouthguard can offer you the right protection.
Types of mouthguards
When looking for a sports mouthguard, you'll come across three options.
Stock mouthguards: These standard-made mouthguards are one-size-fits-all. You can find them at your grocery store, pharmacy, or sporting goods store. Because they aren't formed specifically to your teeth, they don't offer you as much protection and comfort. They can be bulky and make it more difficult to breathe.
Semi-adjustable mouth guards: Some mouthguards are designed to allow for some customization. There are boil-and-bite mouthguards that you can soften and reshape, and there are mouthguards that come with sliding adjustments. Adjustable mouthguards offer more protection and comfort than stock mouthguards, but not as much as custom-fit ones.
Custom-fit mouth guards: Your dentist can take an impression of your teeth to make a custom mouth guard. It's designed specifically for your teeth and bite to offer you the most protection, comfort, and longevity. A custom mouthguard is your best bet for reducing injury and most importantly preventing concussions.
What to look for in a mouthguard
When selecting a mouthguard, consider important components that impact how helpful your mouthguard will be.
Proper fit:

Ensure it covers your teeth/gums and fits snugly to offer protection.

Comfort:

While a mouthguard takes some getting used to, it should feel comfortable and not bulky. It should not make it difficult to breathe.

Stays in place:

Your mouthguard shouldn't move around; it should sit over your teeth even when you talk or move your jaw.

Made of resilient material:

It's up to you and your dentist whether you opt for a softer, more flexible mouthguard or one that is harder. But your mouthguard should be made of high-quality material that absorbs impact and lasts for several years.
How to care for your mouthguard
Keeping your mouthguard clean allows you to get more years out of it.
Follow these simple steps when caring for your mouthguard
Brush your mouthguard gently

with a toothbrush and toothpaste after each use, then rinse thoroughly.

Store your mouthguard in a dry, ventilated container

to prevent bacteria growth. Stow the case away from pets who might think your mouthguard is a chew toy.

Bring your mouthguard to every dentist appointment

to ensure it fits properly and is offering protection.

Replace your mouthguard

if it shows significant wear, is damaged or doesn't fit properly. Kids may need to replace their mouthguard more often because their mouths are growing and changing more rapidly.

Avoid placing your mouthguard in hot water and direct sunlight

, as it could alter its shape.
To see if a mouthguard is right for you or your child, schedule an appointment with us.
Sources
https://pubmed.ncbi.nlm.nih.gov/11759098/ 
https://www.ada.org/en/member-center/oral-health-topics/mouthguards