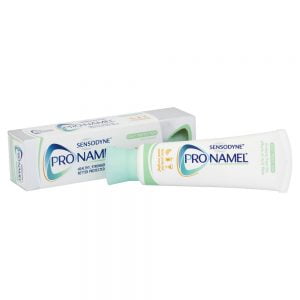 Toothpaste choice should be customized to the specific risks and needs of each individual. If you have any tooth wear from grinding, acid wear and/or gum recession, you should make sure your toothpaste has an abrasiveness less than 70. If an abrasive toothpaste has been chosen to whiten teeth, professional whitening is a much better option!
Here is an example of abrasive toothpaste list:
Crest vivid white (200)
Crest Prohealth (130)
Colgate Sensitive Pro Relief (125)
Sensodyne Whitening (104)
A good choice is Sensodyne ProNamel, which has a very low abrasiveness of 37.
Which toothpaste do you use? Is it from our abrasive toothpaste list? Let us know in the comments below!